If All You Have is a Hammer…
.
…Everything Looks Like a Nail.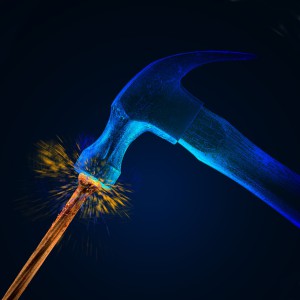 OK, so, today's headlines read:
FORD Requests $9 Billion Loan in Plan Submitted to Congress…
BAILOUT MONITOR DECRIES LACK OF COHERENT PLAN…
Data signal deep global downturn…
Manufacturing hits 26-year low…
Schwarzenegger declares fiscal emergency…
Treasury Yields Plunge to Lowest on Record…
.
In the face of this financial
dilemma
, caused by too much debt,
what's their proposed solution?
"Let's borrow some more!"
All they know how to do is:
BORROW / BOND / TAX / BAILOUT / BANKRUPTCY.
That is their entire plan.
Watch your thumb.